On this page we will share all the things we learned from the LGBTQ people who took part in the project. You can find all of the findings reports and links to articles written about this research here. Please contact us to use information from the findings for any purpose.
Reports
Acting On Equalities: Are Local Authorities In England Meeting the Duties of the Equality Act 2010 and Addressing Sexual Orientation & Gender Identity?
In late 2014 and mid 2016, the Liveable Lives project gathered data to help understand exactly what each of the 353 local councils in England is doing to meet their duties under the Equality Act 2010. We have published a report which explores if, and how, each local council is meeting their duties. The report also looks at LGBTQ-specific work being done by councils, and issues surrounding same-sex marriage and civil partnerships. We have also published a supplement which organises the findings by region and by political party.
Click the image below to download the report.
Click the image below to download the supplentary breakdown by region and political party.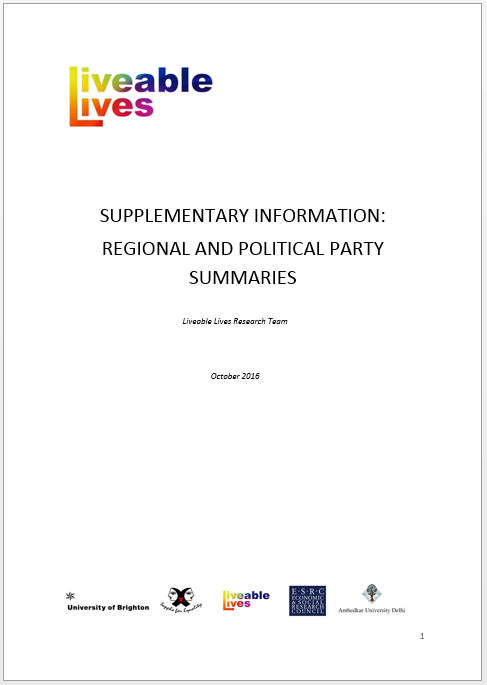 Understanding Liveability/ies: Findings Report from India
Building on years of work, the Kolkata-based LBT group Sappho For Equality have launched their report of work from the Liveable Lives project. This extensive and detailed report is now available for anyone to download and read. It covers the activist and academic thinking behind the Liveable Lives project; the political and legal context of LGBTQ people in India; how the research was actually undertaken; presents visual and textual data created by our participants; and outlines key themes and findings from the research so far.
Click the image below to download the report.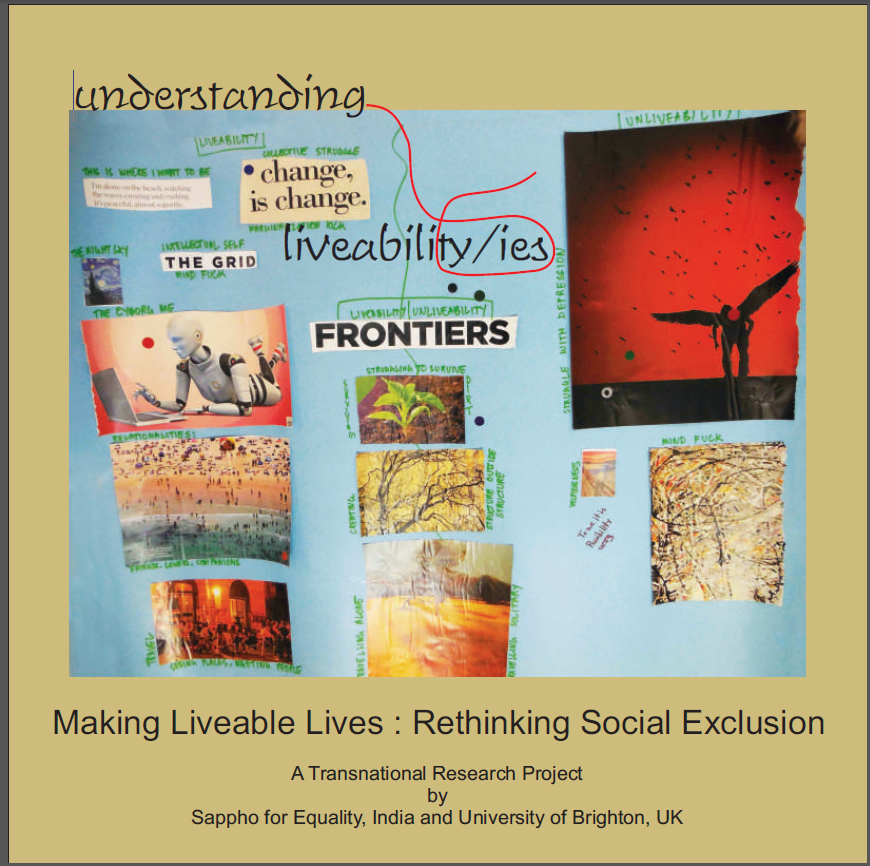 Articles
"Gay-Friendly or Homophobic? The Absence and Problems of Global Standards"
This article is a discussion of the absence of Global Standards of Lesbian, Gay, Bisexual and Trans (LGBT). Despite decisions being made on the basis of some countries being considered 'homophobic' there are no Global standards. We argue for measures that account for people's everyday lives and do not only focus on legal rights.
Events
Making Liveable Lives
On October 7th 2016, the Liveable Lives project hosted 'Making Liveable Lives' - a one-day seminar for discussing what actually makes life 'liveable' for LGBTQ people in India and the UK. You can now see recorded videos of each keynote presentation:
Aengus Carroll (ILGA) - 'Evidence Not Anecdote'
Kath Browne and Nick McGlynn (Liveable Lives) - 'Implementing LGBT Equalities in England: An Analysis of Local Councils'
Ranjita Biswas and Sumita (Sappho For Equality) - 'of living, loving and labouring: a journey from personal to political'
Niharika Banerjea and Kath Browne (Liveable Lives) - 'What Is Liveability?: key findings'
To view any of these keynote presentations, click here and select the presentation of your choice.